Giuseppe Canovai, a Roman who left a community as his legacy
Diffondiamo il testo di un articolo in lingua inglese pubblicato su "Catholic News Agency" che parla della figura del Servo di Dio don Giuseppe Canovai e del suo rapporto con l'Opera Familia Christi
---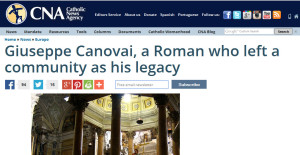 By Jan Bentz
Familia Christi is the Roman community formed by Fr. Giuseppe Canovai, a priest of the city whose life united Franciscan poverty and the Jesuit spirituality.
"He was a simple man, with a deep spirituality that hungered for the salvation of souls," explained Fr. Matteo Riboli, president of the Associazione Vittorio eTommasina Alfieri, an association of the faithful aiming to form the laity according to the ideals of Familia Christi.
Coming from simple roots, Fr. Canovai, born in Rome in 1904, unified in his persona the deep spirituality of a man of God with a charismatic personality.
"He was born into a poor family who was nevertheless rich in their Italian heritage," Fr. Riboli told CNA.
"Since he was young, he strove for spiritual perfection. Fr. Rosa, a Jesuit, helped him in his Christian formation," Fr. Riboli explained, adding: "he was very Roman in his style, very approachable; so much so that sometimes people called him a joker."
In 1929 Canovai entered the Almo Collegio Capranica, the seminary of the Diocese of Rome.
He studied both philosophy and theology at the Gregorianum – run by the Society of Jesus – and was ordained a priest of the diocese in 1931.
He was attracted to the Society of Jesus, however, through his time at the Gregorianum and his contact with Fr. Enrico Rosa, who was editor of La Civilta Cattolica and his spiritual director. He tried to enter the Society while in seminary, but was rebuffed.
Fr. Cavonai "was always eager in the care for souls. He wanted to give his life for the good of souls," said Fr. Riboli.
Fr. Canovai's spirituality was marked by his jovial style of dealing with others while retaining a profound piety.
"In his diary he wrote daily what moved him, and thus offers a deep insight into his spiritual life, his secret relation to God."
He began his diary in 1919, and it was not published, as 'Suscipe Domine', until 1949, by La Civilta Cattolica. It was recently re-published in Italian due to its popularity.
Fr. Riboli continued, saying the priest "had a great love for the Eucharist and exercised an extreme habit of mortification, up to self-flagellation. This became visible only after his death by the visibility of scars, and instruments he left behind."
Fr. Canovai served several years in Rome. He was a secretary at the Congregation of Seminaries and Universities, and studied canon law, but loved to preach. He was later able to serve as a university chaplain.
"He wanted to found a new group together with a young women, Tommasina Alfieri," Fr. Canovai said of his time in Rome. "In 1937 he founded the first community, called 'Opera Regina Crucis', but only in 1942 did the group take the name 'Familia Christi'."
The priest joined the Pontifical Ecclesiastical Academy in 1939, and that year was sent to Buenos Aires as auditor to Argentina's apostolic nuncio.
Thence he was briefly sent to Chile, though he returned to Argentina in 1942, where he died Nov. 11 of that year.
"He offered his life to the Lord," Fr. Riboli said, "with the words, 'I did not expect that it would be so beautiful to die so soon and to die so young.'"
Fr. Canovai's legacy is continued to the present day by Familia Christi.
The community of 30 Romans living near the Tiber is "a family of friends of God who give their life for their siblings in the love of God," said Fr. Riboli.
It includes both men and women who meet multiple times a week, including a weekly meeting for scripture reading and lectio divina.
Fr. Riccardo Petroni, postulator for the cause of beatification of Fr. Giuseppe Canovai and ecclesial assistant to Familia Christi, told CNA that the priest's beatification is imminent.
The diocesan investigation was concluded in 2001, and the Congregation for the Causes of Saints has given its verification.
"The veneration of Don Giuseppe Canovai began right after his death. From that moment on he had a reputation of sanctity due to the zeal with which he worked and his heroic way of witness for the Gospel."
Pope Francis, too, knows the Roman priest.
"He was incredibly famous in Buenos Aires, and certainly Pope Francis knew him," Fr. Petroni said. "In 2007 when the request was made to transfer his mortal remains from the Jesuit church in Buenos Aires to Rome, it was the archbishop, Cardinal Bergoglio, who granted permission."
Fr. Petroni concluded that Fr. Canovai shares a common feature with Pope Francis: the dual love of Franciscan poverty and Jesuit spirituality.
"Today his remains lie in the church of the Franciscans, Santa Maria in Aracoeli, an order whose spirituality he liked so much, together with the Jesuit charism, the first charism of his life."
Fonte: http://www.catholicnewsagency.com/news/giuseppe-canovai-a-roman-who-left-a-community-as-his-legacy-83688/